With the shelves gone and holes in the wall, Jason came home and rolled his eyes and went, "Really?". All I said was, "Can you mud that for me?" {and batted my pretty little drywall dusted eyelashes at him}
To my surprise, that weekend we all went to Home Depot and not only got some drywall mud but also got the paint, wood for the shelves and other small things to go with it (& he didn't even roll his eyes once at me! I think he's coming around to the dark side my way of thinking!)
Then even more of a surprise, he mudded the wall for me that day so I could slap some paint on it during the week.
I was all like:
Then I painted the entry TWICE. First I painted it Behr Silver Drop but that was too light, so we went up a shade to Dolphin Fin. PERFECT!!!! It's a beautiful warm grey colour that I'm just loving. I got a gallon of it and I think I'm going to paint the hallway too. Lighten it up a little more!
Then I stained some new wood for shelving and then Friday night, we got crack-a-lacking (as Marty from Madagascar would say). We put the shelf up to where we thought it should go, put
the hooks I redesigned
underneath and voila...coat storage!Although...it's a bit high for some of our shorter friends and children. WHAT? Not everyone is 6'0?
Oh well, they can always climb on the bench to retrieve their things!
While at Hobby Lobby in the States, I fell in love with these cabinet door knobs! They are the perfect amount of bling and glitz and yet functionality to make for some stink'n cute purse storage.
Don't ask how we attached it to the wall....OKAY DO!! It's kind of funny.
The screws for the knobs stuck out of the back of the wood by about an inch. Jason thought he could just clip them off (because apparently he thinks he's the Hulk or something), but that just made his eyeballs pop out of his head from exersion. So then I gave a girl suggestion and said we should just bang the holes in the wall. I thought he would boycott that idea..because really, I'll even admit it is a naive idea. Anyway, he kind of just shrugged and said "Whatever.", placed it where we wanted to and banged it with a hammer. Then he secured it with screws! Not Bad
We'll have to do some major drywall fix if we ever decide to move it or take it down....Let's just never take it down..OKAY?!
As for the shelves, normally I love white. But this dark stained wood has been screaming to me! I would love to put 2 more pieces of stained wood below the hooks to give it a more substantial beefy look. Jason said no, which means.... I'll just have to grab the wood and do it myself while he's not looking....(and send him pictures of me doing it while he's hard at work!)
Also, this is the final resting place for the passively aggressive sign "Hang up your coat & stay awhile" that I made.
Although it would look cool here.
(My wheels are already turning for what I want to put above the purse hooks.)


But here is where it will probably stay. People will actually see it when they come in and feel passive aggressively encouraged to hang up their coats!


Anyway...there it is! 85% done. All that's left to do is trim out the seat with 1/4 inch round and make something to go above the purse hooks and....sneakily stain some more wood to put on the wall.
What have you all been up to?
I know of a lot of busy ladies out there!
One of my friends has been busy ripping out things and painting walls while her husband was away at work. (Alyssa...you rock!). And another, has painted her dark cabinets white (props to you Lana!, but I guess when you're woken up at 4:30 by some energetic boys, the world it your oyster).... and another friend loves to redo furniture and if there is nothing to redo, builds her own (Christa...you know I'm talking about you!).
Here's to all the headstrong women out there who just dive in and do it themselves!
CHEERS!
Does anyone else bravely destroy things while their husbands are away at work?
I'd love to hear all about it!!
Love,
Kat
Linked Up Here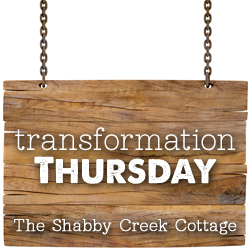 Shabby Creek Cottage